Lecture Slides
Welcome to Methods of Social Research
Hello and welcome. My name is Nick Harrigan. This is Methods of Social Research: SOCI2000 and SOCX2000.
Before I deal with administrative issues, I want to tackle a couple of worries you probably have:
isn't this going to be boring, and
why study research methods at all?
Isn't research methods dry and boring?
Honestly, research methods courses have a bad reputation. Students (and lecturers) often see them as dry, technical, abstract, and not nearly as interesting as all those 'other' courses that have 'content' like class, race, gender, war, peace, or whatever.
My hope is that your experience of research methods will be different.
How will it be different?
you will design and run your own research project, from beginning to end. You pick the topic, you design the study, you collect the data, you analyse it, and then your write it up and present it.
each week, as we learn new skills, we will apply them to your projects, making the concepts immediately applicable and relevant.
I've been running research methods like this for over ten years - first in Singapore, and now here at Macquarie - and many students have found it very rewarding. I hope it will be the same for you.
Why study research methods?
So my promise to you is that this isn't going to be boring.
But why are we here in the first place? Why study research methods at all?
I think there are four big reasons why research methods is a damn useful course.
1. Do better in other classes
Research methods helps you do better in your other classes.
read and understand journal articles set as readings in other subjects. These articles use the techniques - for study design, data collection, analysis - you will learn in this class.
when you do a survey, or you do interviews, you will have the basic skills to do a statistical analysis - if it is a survey - or a thematic analysis - if you have qualitative data.
improve your academic writing and public speaker
be better at searching and reviewing the academic literature.
2. Get skills useful for a meaningful career
This course gives you the skills you will need in many interesting jobs. If you want a job where you conduct research, then this course is fundamental. You might be interested in a policy job in government, or doing research for a non-government organisation (NGO), or doing market research for a large company. These jobs require the skills you will learn and practice in this course.
3. Study a topic you are passionate about, in depth
This course lets you pick your very own research project, on virtually any topic you are interested in. There are some limits - we need to make sure the research is low risk, and we can only use the research for the purposes of learning in this class. However, you still have a tremendous scope to pick a topic you are interested in, and then design and run the project with a large amount of automony. Many students find this a satisfying experience.
4. Get the foundations for graduate degrees and thesis writing
Fourth, this course provides you with the foundations for higher degree research. If you are thinking of doing an honours thesis, a masters thesis, or a PhD, then the skills you get in this course are fundamental.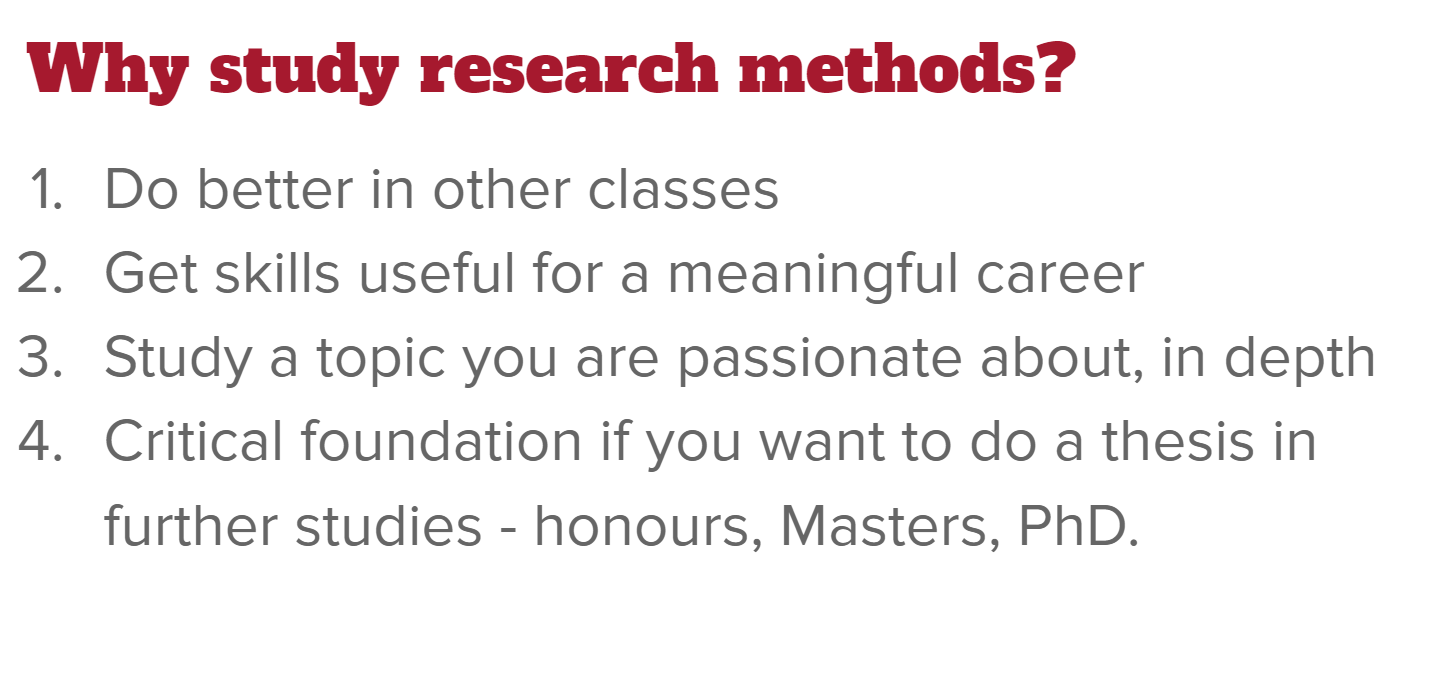 Last updated on 25 February, 2020 by Dr Nicholas Harrigan (nicholas.harrigan@mq.edu.au)